Fun fact: I met my husband while we were both working at Lowe's. I've since moved on, but Brian still works there and came home a while back very excited to tell me that Lowe's was getting Sherwin Williams paint!
Why was he so excited? Because we both know that SW has some serious color power. It seems that where paint lines like
Behr
,
Glidden
, and
Valspar
lack in depth, SW just plunges right into the deep end. For instance, I've been hard pressed to find a nice, warm, taupey gray and it wasn't until I finally made my way to the Sherwin Williams display that I found what I was looking for.
I've mentioned before that gray can be a tricky color, only because of it's very neutral qualities.

HINT: If you think you want beige walls, you don't. You want gray walls. It is every bit as neutral as that dreaded beige, and instead of sucking all the color from the room, gray tends to enhance the space.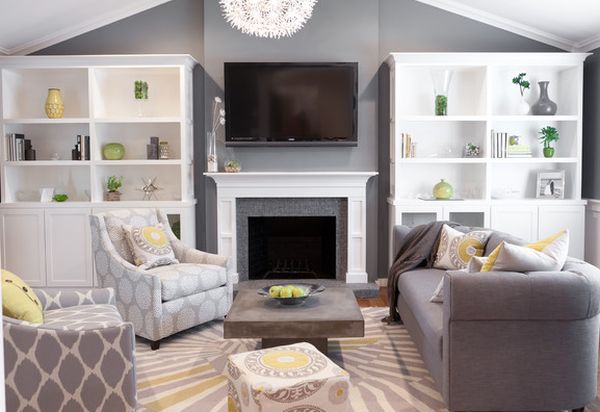 See? That space looks lovely and is still very, very neutral.
But I digress.
If you visit
SherwinWilliams.com
you can view a multitude of warm/cool neutral options that have the depth that will make accenting your furniture that much easier. What do I mean by depth of color? Think of the primary colors: red, blue, yellow. By combining these colors, you're able to create many different colors. Therefore, each color will have a base, and then an additive (example: you want purple, your base is red, you add is blue). It's the mixing of these colors that give you your depth of color. When you're looking at a gray, it could start with red/blue combo (adding a bit more blue than red, will make a gray) then add a little black to darken it and boom! You've got gray with a purple/blue undertone. Depth of color.
It's the depth of color that I find lacking in the Behr's/Valspar's/Glidden's of the world. They've got the range, they just don't get down and dirty with it.
That is why we were excited to see that Sherwin Williams would be coming to Lowe's. Because it would put these colors within eye-shot of the average consumer. And really, what's life without good color? Beige. That's what it is. Beige.
In case you're wondering: Other than previous employment and my husband's employment (as noted above), I have no affiliation with Lowe's or Sherwin Williams. I was not asked by either to do this post and I will not be compensated for any links on this post. This is just a general knowledge post, for the greater good of the world. Anything to get rid of beige.