True story: Brian told me he wanted a new shirt for his suit before we went to an upcoming gala. I said ok, until he told me he wanted an aqua blue shirt. Seeing this as an obvious cry for help, instead of buying him a new shirt, we bought him a new suit.
Let's face it, not all of us are fancy people. Not everyone goes to gala's or has parties or weddings or events that require dressing up for and that's ok. But when it is time to get your swank on, it's important to make sure that you're not the only one leaving the house looking fabulous. Entre-Vous this guide to dressing your man for the ball:
Rule Number One: SUIT UP!
Oh Barney Stinson, how I love thee for coining the phrase that every man should remember. There is a time to be casual, and there's a time to suit up. If your man does not own a suit, this should go to the top of the priority list of expensive things to buy. A suit is an invaluable addition to your mans wardrobe. On average, a decent suit should cost you $200-$500.
Rule Number Two: TAILORING

It is vitally important to make sure your mans suit fits well. I'm not implying you need to get a suit made by a tailor, but if you're buying off the rack (which most of us do) it's essential to get jacket and pants tailored. Typically, any store you're at, that sells designer suits, will offer tailoring for an additional fee. This includes places like Macy's, Nordstrom, and Men's Warehouse. Tailoring will typically cost you (depending on the alterations) $30-$50.



Rule Number Three: THE CUFF
Ladies, do your man a favor and show him a french cuff (the kind with the cufflinks). This little detail can make or break your suit, more so even than a tie. Get him a shirt, with french cuffs and good set of cuff links to go with it. Consider splashing out on the cuff links, these can be re-used for every event and should be nice. NOTE: As much as your man will tell you no one will notice, people will notice the Las Vegas Playing Card/Dice cuff links he bought when he was there last time for 'funsies'. Cuff links should cost you $50+.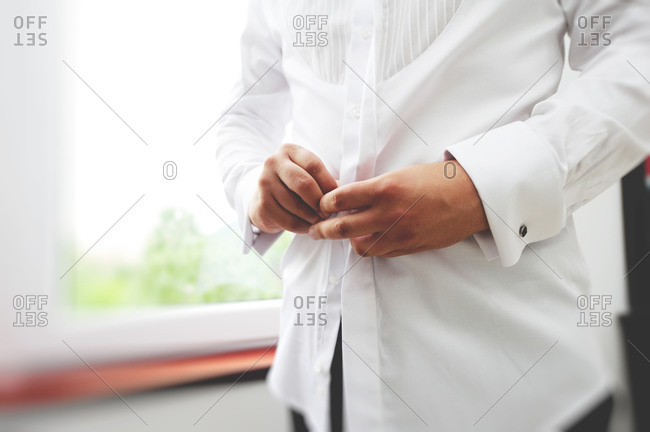 Rule Number Four: THE SHIRT
It may seem like I did this out of order, but I didn't. The cuff of the shirt matters more than the actual shirt. The shirt is where you can let your man have some freedom. Let him choose the shirt, as long as it's not aqua blue. There are several options including solid colors, calico prints, and stripes. All of these options are appropriate. An average shirt will cost you an additional $30-$50.
Rule Number Five: THE TIE
This is almost like an after thought for me. I don't care what Brian's tie looks like as long as it's appropriate and doesn't light up. Let your man choose his tie. If you're worried about it, have him opt for a classic color: black, gray, or red. HINT: Shop for a tie at Nordstrom Rack, you'll only spend about $20 for a great tie.
Rule Number Six: THE SHOES
Black sneakers are not, and have never been appropriate to wear with a suit. Neither are Dr. Marten's. Get your man some good dress shoes, and remember when in doubt oxfords, not brogue's. Also, white athletic socks are not appropriate, get some black dress socks.Tip: Shop for shoes online at places like 6pm, Amazon, or Overstock. You'll save bundles. Shoes should cost about $100.
And that's it! My six steps for dressing your man for the ball! I hope this ends up being helpful for some of you! Leave me a comment below if you've got any additional tips and tricks!