Back in the day, pre-marriage, I used to be a filing queen! I loved it. It was amazing and exciting and amazing and organization and...yes, I was like Monica...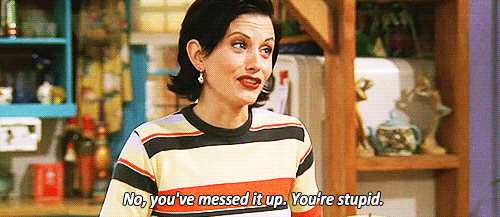 But then I got married, moved about 1 billion times, and filing has become a joke. Seriously, my mortgage paperwork is just sitting on a shelf in the closet, don't ask me where our tax documents are, and I actually do not store anything to do medical bills or the like cause they're all available online.
This is all fine and dandy, but for things like insurance paperwork, mortgage documents, taxes, etc, there should be
something
paper that you hold on to 'just in case'. I know this. So this weekend I went on a storage hunt and found some really cute items.
Like, stop right? Who knew Target was the place to go for cute office organization? I can't stand going to Staples or Office Max (do they still have those?) because I always feel sooo overwhelmed. There's just too much. Here's what I need to file:
-Important Paperwork: insurance, home, etc.
-Sheet Music: I play piano and have an abundance
-Recipes: I don't even want to count the amount of magazines/books I have
I really liked the idea of using an expandable filing system for my sheet music. I figure you can organize it by genre/composer and that will likely do the trick. I'm also considering adding little tabs to the top of the sheet music so I can see the song title. Currently, my sheet music is in 3-ring binders, and you'd think it'd be nice, but not only do these enable hoarding, but they also look so janky! I thought the Threshold Marble Expandable File or the Threshold Blue & Gold Palm File would work nicely. (I picked the palm).
For the important paperwork I didn't want to have something big and clunky like a file cabinet so instead, I'm opting for file boxes. I thought perhaps the Threshold Wooden Filing Box would be nice, but then decided, I really didn't like it all that much. Next came the Table Top File Rack, which I think is so chic, but would be sturdy enough to hold all my paperwork. I settled on the Nate Berkus Fabric File Box which is neither clunky, or ugly, and has enough chutzpah to hold up to those pesky mortgage documents. PS have you seen these folders or these hanging files? Yes please!
I've tried just about every solution for recipe storage. 3-ring binder (again janky). Computer...not great, cause I'm a messy cook and an even messier baker. iPad...no. The thing I keep coming back to, is a recipe box, with recipe cards. This is really the best way to do it, I've decided. So, I invested in this recipe box which comes with 24 cards from Rifle Paper Co. This does mean I'll have a lot of writing to do, but it's okay, this will be the last time.
What are you favorite ways to organize your papers? Leave me a comment below and let me know!